Druid Arch
Distance: 10.4 miles (round trip)
Needles District, Canyonlands National Park, near Canyonlands in Southeast Utah
A great hike to a high bench near the head of Elephant Canyon offering spectacular views of Druid Arch, a massive, uniquely-shaped angular arch. Along the way the trail travels through scenic Elephant Canyon, beneath sandstone walls sculpted into amazing shapes.
See Trail Detail/Full Description
Distance: 10.4 miles (round trip) to Druid Arch

Elevation: 5,115-ft. at Trailhead
5,850-ft. at Druid Arch

Elevation Gain: 735-ft. to Druid Arch

Difficulty: strenuous
More Hikes in:
Canyonlands / Monticello / Southeast Utah
Why Hike Druid Arch
Amid spectacular sandstone formations at the head of Elephant Canyon stands a massive arch unlike any other in canyon country. Druid Arch, with its angular profile and two narrow, elongated openings, looks more like a formation from Stonehenge than the typical crescent-shaped span.
The trail to the arch, starting at Elephant Hill, follows the first section of the trail to Chesler Park before turning up scenic Elephant Canyon. As you ascend the canyon, its multi-hued sandstone walls, topped by spires, knobs and fins, grow in stature and become more impressive.
For much of the hike the trail travels along Elephant Canyon's sandy wash and its adjacent benches on easy to moderate grades. The final 0.25 miles of the trail are quite strenuous, requiring hikers to scale a ladder and then climb/scramble up a very steep boulder choked ravine to a sandstone bench. Upon reaching the bench fantastic views open to Druid Arch and the upper end of Elephant Canyon.
This long hike is best accomplished during the spring or fall when temperatures are milder. Hiking the trail is not recommended during the summer months when temperatures often exceed 100 degrees F. Be sure to carry plenty of water and get an early start. There is very little shade along the trail and sections of the hike involve slogging up a sandy wash.
Please note: The final climb to the arch is not recommended for people with a fear of heights or those uncomfortable with scrambling up steep slickrock inclines.
Elevation Profile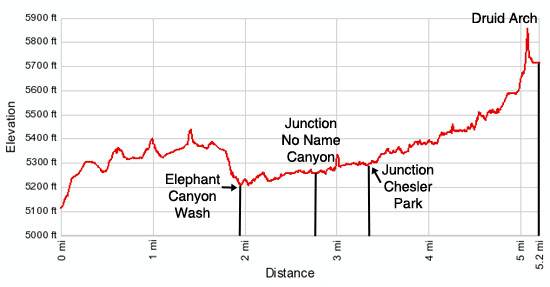 Trail Resources
Trail Detail/Full Description / Trail Photo Gallery / Trail Map
Basecamp(s) Information:
Canyonlands / Monticello
Region Information:
Southeast Utah
Other Hiking Regions in:
Utah