Kane Gulch to Junction and Turkey Pen Ruins
Distance: 7.0 - 9.0 miles (round trip)
Grand Gulch Primitive Area, BLM, Monticello, Utah office, near Grand Gulch in Southeast Utah
Grand Gulch is often likened to an open air museum of Ancestral Puebloan ruins and rock art. This trail offers a great introduction to the canyon, visiting Junction Ruin and Turkey Pen Ruin and passing a nice viewpoint for Stimper Arch.
See Trail Detail/Full Description
Distance: 7.0 miles (round trip) to Junction Ruin
9.0 miles (round trip) to Turkey Pen Ruin
9.7 miles (round trip) to Unnamed Ruin

Elevation: 6,440-ft. at Trailhead
5,910-ft. at Junction Ruin
5,870-ft. at Turkey Pen Ruin
5,850-ft. at Unnamed Ruin

Elevation Gain: -530-ft. to Junction Ruin
-570-ft. to Turkey Pen Ruin
-590-ft. to Unnamed Ruin

Difficulty: moderate
More Hikes in:
Grand Gulch / Bears Ears NM / Southeast Utah
Why Hike Kane Gulch to Junction and Turkey Pen Ruins
This hike offers an excellent introduction to Grand Gulch, visiting three interesting Ancestral Puebloan ruins. Two of the ruins include nice rock art panels. As an added bonus the trail passes a pretty arch perched high atop a sandstone ridge jutting into Grand Gulch.
From the Kane Gulch Ranger Station along UT-261, the hike descends Kane Gulch to Grand Gulch, losing 540-ft. over 3.7 miles. A short distance up Grand Gulch is Junction Ruin, a large cliff dwelling built on three levels. The fascinating complex consists of storage units, habitation rooms, kivas and defensive structures.
Turkey Pen ruin is located 0.8 miles down Grand Gulch and includes some interesting ruins and rock art along with the "Turkey Pen", where willow/reed branches are placed in a circle to create a cage. A short distance below Turkey Pen ruin is Stimper Arch, an eye-shaped sandstone arch.
Down canyon from the arch is an unnamed ruin tucked into an alcove along the canyon's north wall. Most of the structures within alcove are in poor condition, with collapsed walls and caved in ceilings. At the east end of the alcove are intriguing pictograph and petroglyph panels.
Allocate a full day for the hike. You will spend quite a bit of time exploring the ruins and investigating the rock art panels.
The hike is best done in the spring and fall when temperatures are mild. Remember the return journey is all uphill during the warm part of the day. Be sure to care plenty of water and take some sun protection. Much of the walk up the canyon is exposed to the full brunt of the afternoon sun.
Please note: Permits are required for hiking and backpacking in the canyons of Cedar Mesa, including Grand Gulch. Day use permits may be obtained at the Kane Gulch Ranger Station or at trailheads. During the spring and fall, overnight backpacking permits are only available at the Kane Gulch Ranger Station, and must be obtained on the morning of the trip. They may be reserved up to 90 days in advance by calling 435-587-1510. During other seasons, these permits may be obtained from the Monticello Field Office. See the BLM Grand Gulch website for more information.
Elevation Profile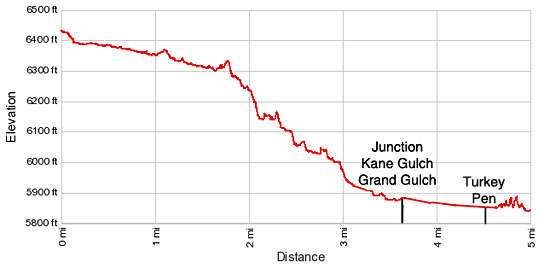 Trail Resources
Trail Detail/Full Description / Trail Photo Gallery / Trail Map
Basecamp(s) Information:
Grand Gulch / Bears Ears NM
Region Information:
Southeast Utah
Other Hiking Regions in:
Utah