Green River Lakes Day Hike
Distance: 6.2 - 10.6 miles (round trip)
Bridger Wilderness, Bridger-Teton National Forest, near Green River Lakes in Wyoming's Wind River Range
This easy, popular day hike features terrific views of the Green River Lakes, the Green River and Squaretop Mountain.
See Trail Detail/Full Description
Distance: 10.6 miles (round trip) to Green River Lakes

Elevation: 8,040-ft. at Trailhead
8,130-ft. at Green River Lakes

Elevation Gain: 90-ft. to Green River Lakes

Difficulty: easy-moderate
More Hikes in:
Green River Lakes / Wyoming's Wind River Range
Why Hike Green River Lakes Day Hike
Splendid views of the Green River Lakes, gorgeous meadows and a beautiful river set amid a backdrop of dramatic Squaretop Mountain are the highlights of this easy, popular day hike starting at the foot of lower Green River Lake. The trip can be done as an out-and-back hike or a loop.
I recommend walking as far up the valley as time and energy allow on an out-and-back hike. The turquoise upper lake, set beneath the steep west facing slopes of the White Rock Cliffs, is lovely. Beyond the upper lake is one of the most scenic sections of the trail through the Green River Valley. Here the Green River meanders down emerald green meadows along the valley floor. Squaretop Mountain, flanked by the distinctive Bottle to the west, fills the skyline to the south.
The loop is a nice alternative for parties seeking a shorter hike. For the best views walk in a clockwise direction around the lake, heading up the Highline along the east side of the lake and returning via the Lakeside trail along the west side of the lake. The Highline trail is quite scenic with vistas extending south to Squaretop Mountain. The White Rock Cliffs rise to the southeast while a trio of unnamed 11,000-ft. peaks towering above the valley to the southwest. Views from the forested Lakeside trail pale in comparison to the Highline.
Elevation Profile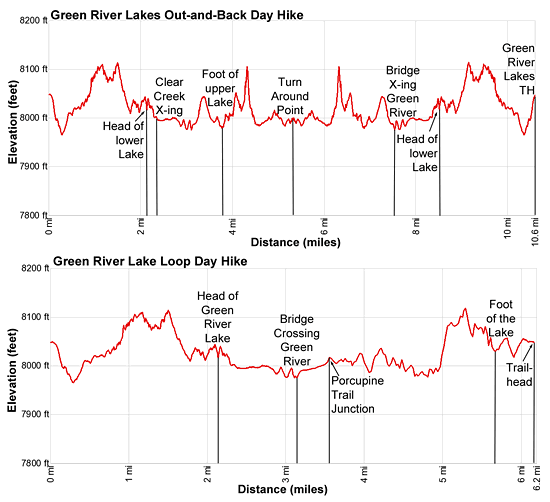 Trail Resources
Trail Detail/Full Description / Trail Photo Gallery / Trail Map
Basecamp(s) Information:
Green River Lakes
Region Information:
Wyoming's Wind River Range
Other Hiking Regions in:
Wyoming