Great views of the Collegiate Peaks and the Elk Mountains beyond, solitude and a good workout are your rewards for hiking this lesser used trail to a pass high in the Williams Mountains.
See Trail Detail/Full Description
Distance: 7.8 miles to Midway Pass

Elevation: 10,530-ft. at Trailhead
12,140-ft. at Midway Pass

Elevation Gain: 1,620-ft. to Midway Pass

Difficulty: moderate
More Hikes in:
Aspen / Central Colorado
Why Hike Midway Pass
The trail to Midway Pass climbs steeply through forest up the west side of the Lost Man Valley before heading northwest through meadows and then alpine tundra along the east side of the Coleman Creek drainage. Once above the timberline the trail enjoys fine views of Green Mountain (12,791-ft.), Independence Mountain (12,703-ft.) and the summits of the Collegiate Peaks Wilderness rising to the south of the Roaring Fork Valley. Geissler Mountain (13,186-ft.) and Twining Peak (13,711-ft.) in the Williams Mountains dominate the view to the east. To the southwest are distant views of the high peaks in the Elk Mountains in the Maroon Bells-Snowmass Wilderness.
From the high point on the trail at 3.0 miles the path drops down to Midway Pass, a saddle on the ridge separating the Coleman Creek and Midway Creek drainages, at 3.9 miles. The pass is pleasant but hardly the highlight of the trip. The steep valley walls on either side of the saddle limit the views. Green Mountain towers above the Roaring Fork Valley to the south while unnamed peaks in the Hunter-Fryingpan Wilderness fill the skyline to the north.
The pass is the turnaround point for day hikers. On the north side of the pass the Midway trail descends the Midway valley and connects with the Hunter Creek and Woody Creek trails, offering opportunities for overnight trips in the Hunter-Fryingpan Wilderness
Elevation Profile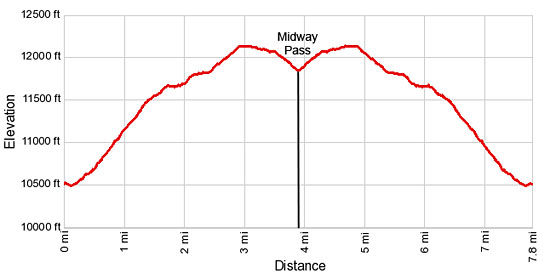 Buy the Book

This opinionated guide includes all the hikes in the Aspen, Buena Vista, Crested Butte, Marble and Leadville sections of the website plus info on local services and nearby attractions.
Trail Resources
Trail Detail/Full Description / Trail Photo Gallery / Trail Map
Basecamp(s) Information:
Aspen
Region Information:
Central Colorado
Other Hiking Regions in:
Colorado