Lower Mule Canyon
Distance: 1.3 miles
BLM, Monticello, Utah office, near Blanding in Southeast Utah
On a day when a short hike makes sense, here is one to consider. The easy trail visits a few small ruins in Lower Mule Canyon, a scenic spot with off the Comb Wash road.
Distance: 1.3 miles (round trip)

Elevation: 4,800-ft. at Trailhead
Maximum elevation - 4,925-ft.

Elevation Gain: 125-ft.

Difficulty: easy
Basecamp: Blanding
Region: Southeast Utah
Trail Description - Lower Mule Canyon
From the parking spot along the road branching off of the Comb Wash Road (see driving directions below), follow the dirt road as it heads northwest through junipers, Cottonwoods and scrub along the east/northeast side of the Lower Mule Canyon wash. After hiking about 0.4 miles a side trail branches to the left (west) up the canyon. Ignore this trail and continue following the road as it climbs north on moderately-easy grades onto a bench.
After walking about a half mile the road ends and a boot beaten path continues climbing across packed dirt and slickrock toward the canyon's north wall. As you ascend, views open to several structures tucked beneath an alcove two-thirds of the way up the north wall.
You will now see a number of use trails taking off in different directions. I recommend doing a loop by turning east and hiking toward the west facing canyon wall where another ruin lies nestled in a shallow alcove. Upon reaching the west facing wall turn south and followed the trail paralleling the wall. The trail takes a circuitous route with short spurs leading to good viewpoints of a habitation site and granary located in small, shallow alcoves along the wall.
After viewing these sites the trail follows a descending traverse down scrub covered slopes to the road in less than a mile. It is now an easy hike, with nice views of Comb Ridge, back to your vehicle.
Elevation Profile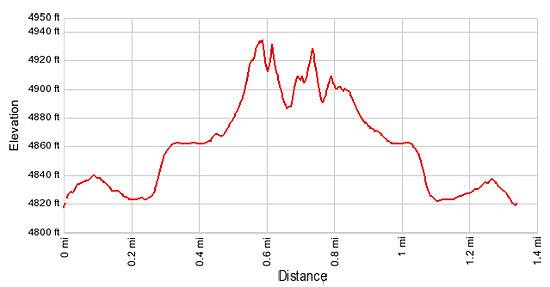 Driving Directions
From Blanding: Drive south on US 191 S for 4 miles and turn right (west) on UT-95 N. Follow UT-95 for 14.1 miles and turn left (south) on the Comb Wash Road / UT County Road 235, located between mile posts 108 and 107. (The turn is right before reaching mile post 107.) Follow the dirt road for one mile and turn right (west) on an unsigned road. Follow the dirt road for about 0.3 miles to an obvious parking area just before the road reaches the Lower Mule Canyon wash. It is possible to drive beyond this spot, but the road gets a little rougher so this is a good spot for most people to stop and start the hike.
Trail Resources