This short, moderately easy off-the-beaten-path hike travels up the West Fork of upper Butler Wash, visiting four archaeology sites along the way.
See Trail Detail/Full Description
Distance: 3.2 miles (round trip) to West Fork of Upper Butler Wash

Elevation: 5,215-ft. at Trailhead
5,315-ft. at West Fork of Upper Butler Wash

Elevation Gain: 100-ft. to West Fork of Upper Butler Wash

Difficulty: easy-moderate
More Hikes in:
Blanding / Southeast Utah
Why Hike West Fork of Upper Butler Wash
This short hike along the West Fork of upper Butler Wash leads to four sets of Ancestral Puebloans ruins. The area is not well known, allowing for a sense of solitude and discovery not experienced at many of the better know trails in the area.
The pleasant path, shaded by Cottonwoods, travels on easy grades up the wash. The first set of ruins contains an interesting, well preserved set of structures in an alcove on the north wall of a short, east-west trending canyon. Ballroom Cave is next, actually a deep alcove with two caves. The site includes two kivas, one round and the other rectangular, a defensive wall and the remains of a few other structures.
Reaching the third site requires ascending a short, very steep sandy trail and then climbing a ladder. The deep alcove/cave consists of two set of structures. Soot marks on the ceiling in the back of the structure suggest additional habitation sites.
There is not much to see at the last set of ruins, situated at the upper end of the wash, except a small section of a wall and some rubble. The area is pretty and not far beyond the third set of ruins, so it's worth the journey if you have the time and are enjoying the walk.
The parking area for the West Fork is located just three-tenths of a mile northwest of the Butler Wash Ruins, a popular tourist stop along UT-95. If time permits the short diversion to see the site is recommended. The one-mile round trip hike travels to an overlook above the site. It is helpful to have binoculars or a zoom lens on your camera to get a better view.
Elevation Profile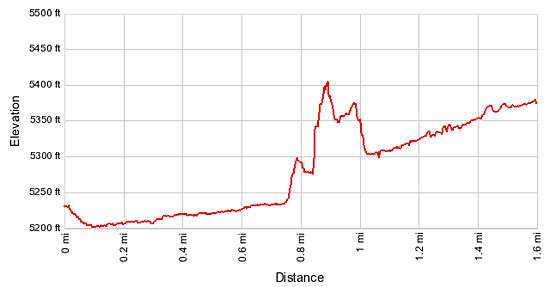 Trail Resources
Trail Detail/Full Description / Trail Photo Gallery / Trail Map
Basecamp(s) Information:
Blanding
Region Information:
Southeast Utah
Other Hiking Regions in:
Utah