Details: Grand View Point
Distance: 2.0 miles (round trip)
Island in the Sky District, Canyonlands National Park, near Canyonlands in Southeast Utah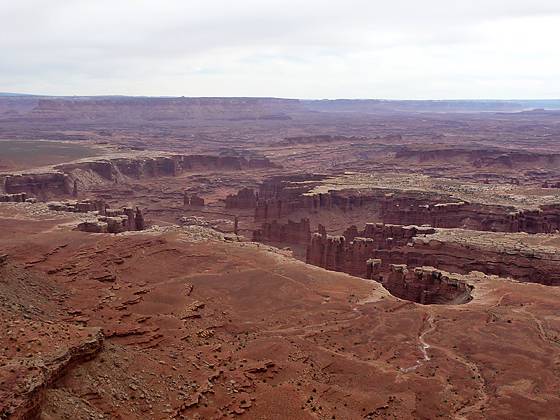 Spectacular panoramic views of the red rock canyon between the Colorado and Green Rivers, the Needles and Maze Districts of Canyonlands National Park and beyond are the scenic rewards for this easy hike to the southern tip of the Island in the Sky mesa in Canyonlands National Park.
Grand View Point Trail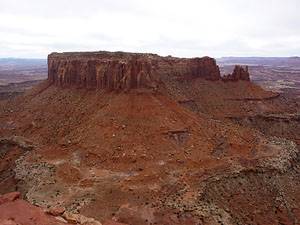 From the Grand View parking area, located at the southern end of the Island in the Sky mesa, walk south to the Grand View Point Overlook. Here views encompass Monument Basin, an interesting canyon system populated with fanciful spires and fins, and the distant La Sal and Abajo Mountains. Notable landmarks to the south include the Needles and Maze districts of Canyonland National Park.
From the overlook, follow the broad Grand View point trail as it heads southwest along the rim toward the southern tip of the Island in the Sky mesa. In a short distance the trail descends a set of well constructed sandstone steps and then continues its journey along the scenic rim on easy grades with minor ups and down. Along the way enjoy unobstructed views of the vast red rock canyons to the south of the Island in the Sky District. Progress will be slow as the scenery invites frequent stops to identify landmarks.
At 0.6 miles the trail crosses to the north side of the narrow peninsula for views to the northwest before heading back to the south rim. Arrive at the southern tip of the mesa in just under a mile. Views from this spectacular vantage point extend west across the canyons of the Green River to the Henry Mountains. Cleopatra's Chair, a prominent light colored sandstone formation, is clearly visible to the northwest.
Across from the point is massive Junction Butte, rising dramatically above the White Rim. The Abajo Mountains form a dramatic backdrop to the Needles, a conglomeration of sculpted rock spires and columns to the south while to the southwest is the appropriated named Maze district of Canyonlands, a labyrinth of sandstone fins, knobs and spires. Looking east views stretch from the canyons of the Colorado River canyons to the La Sal Mountains.
After taking in panorama retrace your steps to the trailhead.
Elevation Profile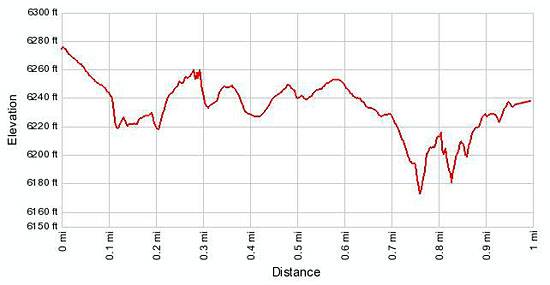 Driving Directions
From Moab: Head north on US 191 N (Main Street) for 11 miles and turn left (west) onto UT 313 W. Follow UT-313 W for 14.6 miles to the "Y" intersection where UT-313 turns left. Continue straight ahead onto the Grand View Point Rd / Island in the Sky Road for 19 miles to the end of the road and the Grand View Point parking area.
Trail Resources
Trail Intro / Trail Photo Gallery / Trail Map
Basecamp(s) Information:
Canyonlands / Moab
Region Information:
Southeast Utah
Other Hiking Regions in:
Utah