Syncline Loop
Distance: 8.3 miles (loop)
Island in the Sky District, Canyonlands National Park, near Canyonlands in Southeast Utah
This interesting and challenging trail travels around Upheaval Dome, a fascinating geological feature in the Island in the Sky district of Canyonlands National Park. The trail, recommended for experienced hikers only, descends rugged Upheaval Canyon and climbs out via a beautiful and difficult trail up the Syncline Valley.
See Trail Detail/Full Description
Distance: 8.3 miles (loop)

Elevation: 5,690-ft. at Trailhead
Maximum elevation: 5,690-ft.

Elevation Gain: 1,450-ft.

Difficulty: strenuous
More Hikes in:
Canyonlands / Moab / Southeast Utah
Why Hike Syncline Loop
Panoramic vistas are the hallmark of most hikes in the Island in the Sky district of Canyonlands National Park. The Syncline Loop trail offers a different experience. This interesting and strenuous hike loops around Upheaval Dome, descending steeply down rugged Upheaval Canyon and ascending the other side via a beautiful and challenging route up the Syncline Valley.
The trail up the Syncline Valley is recommended for experienced hikers who are comfortable climbing over boulders, scrambling up ledges and negotiating steep slickrock friction pitches. The descent into Upheaval Canyon is not as difficult but includes a steep section that loses over 1,000-ft. in just under a mile.
For hikers with the time and energy, I highly recommend combining the loop hike with a side trip to the Upheaval Dome Overlook. The 0.6 miles round trip hike from the junction with the Syncline Loop trail to the first overlook gains 120-ft. and features fantastic views of the massive crater and dome. Interpretive signs at the overlook explain the two main theories about the formation of this striking geologic feature. From the first viewpoint the trail heads northwest around the rim on easy grades to the second overlook. The hike to both overlooks is 1.7 miles round trip from the junction with an elevation gain of 200-ft.
The Syncline Loop trail is best hiked in the spring and fall when temperatures are cooler. Avoid the hot summer months when temperatures often exceed 100 degrees F.
There is little or no shade along long stretches of the trail. Get an early start and carry plenty of water. This is not a good trail for children or a good choice for the first hike in canyon country.
Elevation Profile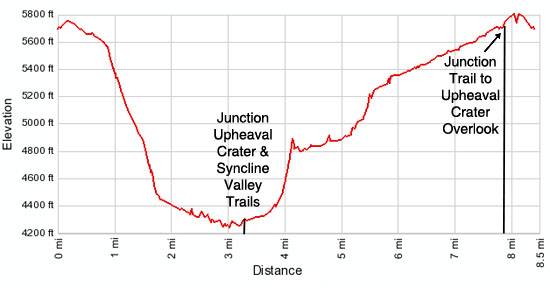 Trail Resources
Trail Detail/Full Description / Trail Photo Gallery / Trail Map
Basecamp(s) Information:
Canyonlands / Moab
Region Information:
Southeast Utah
Other Hiking Regions in:
Utah