Why Hike Tamarack Lakes
Tamarack Lake (11,605-ft.) lies in a stark, barren basin framed by a cirque of serrated granite peaks and craggy ridges anchored by Broken Finger Peak (13,080-ft.). To reach the basin the trail climbs above the eastern shore of Rock Creek Lake, travels up a broad valley with access to a trio of lakes and then steeply ascends the scenic East Fork of Rock Creek valley to a high granite bench situated at the head of the Wheeler Ridge.
While not the most scenic trail in the Rock Creek valley it is certainly is the least traveled, offering a degree of solitude not found along the Little Lakes or Mono Pass trails. So if you are looking to get away from the crowds and get a good workout, lace up your boots and take a hike to the Tamarack Lakes.
Read the full trail description
Elevation Profile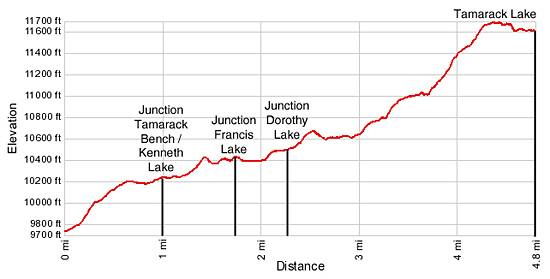 Trail Resources