Lake Ann
Distance: 6.6 - 12.0 miles (round trip)
Collegiate Peaks Wilderness, San Isabel National Forest, near Buena Vista in Central Colorado
The hike to Lake Ann, cradled in a pretty alpine basin beneath the Continental Divide, features great views of Huron Peak and the Three Apostles. Continue the hike to a saddle on the divide with stunning views of the Taylor Valley and the peaks riming the Clear Creek valley.
See Trail Detail/Full Description
Distance: 6.6 miles (round trip) to Lake Ann
8.0 miles (round trip) to Continental Divide

Elevation: 10,600-ft. at Trailhead
11,805-ft. at Lake Ann
12,620-ft. at Continental Divide

Elevation Gain: 1,205-ft. to Lake Ann
2,020-ft. to Continental Divide

Difficulty: moderate
More Hikes in:
Buena Vista / Leadville / Central Colorado
Why Hike Lake Ann
This scenic hike ascends through meadows and trees up the South Fork Clear Creek valley to beautiful Lake Ann, an aquamarine gem cradled in a small cirque of 13,000-ft. peaks along the Continental Divide. As you ascend the trail enjoys fine views of the Three Apostles rising to the southwest and Huron Peak towering above the east side of the valley.
Extend the hike by climbing the trail to a saddle on the Continental Divide with terrific views of the Taylor Valley to the south, the Elk Mountains to the west and Huron Peak (14,003-ft.) and the 13,000-ft. summits lining the north side of the Clear Creek valley to the north.
The road to the Lake Ann trailhead requires a high clearance/4WD vehicle. Hikers with a 2WD/low clearance vehicle can park in the ghost town of Winfield and walk up the 4WD road. The walk adds 4.0 miles round trip to the hike.
Elevation Profile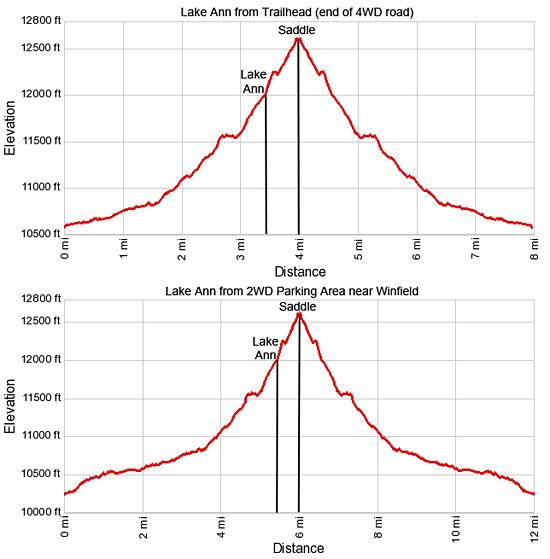 Buy the Book

This opinionated guide includes all the hikes in the Aspen, Buena Vista, Crested Butte, Marble and Leadville sections of the website plus info on local services and nearby attractions.
Trail Resources
Trail Detail/Full Description / Trail Photo Gallery / Trail Map
Basecamp(s) Information:
Buena Vista / Leadville
Region Information:
Central Colorado
Other Hiking Regions in:
Colorado