Morning Eagle Falls
Distance: 6.4 - 9.2 miles (loop)
Glacier National Park, near Many Glacier in Glacier Natl Park, MT
This pleasant hike visits two pretty waterfalls, Feather Plume Falls and Morning Eagle Falls, in the lovely Cataract Creek Valley. Beyond the falls the trail climbs steeply to Piegan Pass.
See Trail Detail/Full Description
Distance: 6.4 miles (loop) to Morning Eagle Falls

Elevation: 4,880-ft. at Trailhead
5,400-ft. at Morning Eagle Falls

Elevation Gain: 520-ft. to Morning Eagle Falls

Difficulty: moderate
More Hikes in:
Many Glacier / St Mary / Glacier Natl Park, MT
Why Hike Morning Eagle Falls
Most hikers getting off the boat at the head of Lake Josephine head to Grinnell Lake and/or Grinnell Glacier. This hike leaves the crowds behind, ascending through forest and pretty meadows to view two beautiful falls, Feather Plume Falls and Morning Eagle Falls in the scenic Cataract Creek Valley.
Feather Plume Falls is a tall, delicate horsetail style waterfall dropping down a sheer cliff between Mt. Gould (9,553-ft.) and Angel Wing (7,430-ft.). Further up the valley is Morning Eagle Falls, composed of multiple cascades spilling over a ledge and down a red argillite rock face. Mount Gould, the Bishop's Cap (9,127-ft.) and the serrated ridgeline along the Continental Divide create a stunning backdrop for both the falls.
The trail complex around the Grinnell and Cataract Creek valleys offer hikers a number of options for extending the hike. From the falls it is possible to take a trail that drops down to and pass Grinnell Lake and then returns to the head of Lake Josephine, where hikers can either catch the shuttle boat or take one of the trails along the north or south shore of the lake back to the Many Glacier Hotel.
Alternatively, hikers with the time and energy can climb to Piegan Pass (7,570-ft.). The south side of the broad pass offers excellent views of Mt. Siyeh (10,014-ft.), Matahpi Peak (9,365-ft.) and the Going-to-the-Sun Mountain (9,642-ft.). Pollock Mountain (9,190-ft.) looms above the pass to the west.
A vantage point on the north side of the pass offers panoramic views of the peaks along the Garden Wall on the Continental Divide, including the Bishop's Cap and Mount Gould, towering above the west side of the valley. Distant views extend north to Mount Grinnell (8,851-ft.), Mt. Wilbur (9,321-ft.) and Mt. Henkel (8,770-ft.) in the Many Glacier area.
The trail to the falls is a good option for parties looking to acclimate or seeking an easy day. It is also a great choice is the weather is less than optimal for hiking to the high country.
Elevation Profile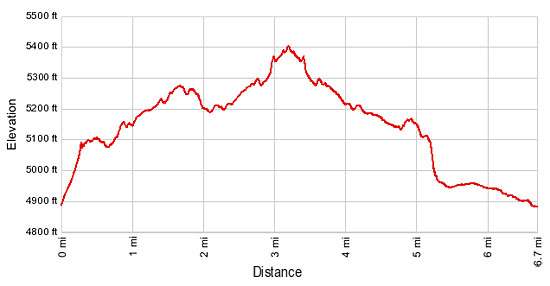 Trail Resources
Trail Detail/Full Description / Trail Photo Gallery / Trail Map
Basecamp(s) Information:
Many Glacier / St Mary
Region Information:
Glacier Natl Park, MT
Other Hiking Regions in:
Montana