Sperry Chalet
Distance: 12.4 miles (round trip)
Glacier National Park, near West Glacier in Glacier Natl Park, MT
A sustained ascent through trees for 4.0 miles and then more open terrain leads to the foot of stunning Glacier Basin, the Sperry Chalet and Sperry Campground. The area is a great basecamp for visiting the Sperry Glacier, Lincoln Pass and Gunsight Pass.
See Trail Detail/Full Description
Distance: 12.4 miles (round trip) to Sperry Chalet

Elevation: 3,190-ft. at Trailhead
6,550-ft. at Sperry Chalet

Elevation Gain: 3,360-ft. to Sperry Chalet

Difficulty: moderate-strenuous
More Hikes in:
West Glacier / Glacier Natl Park, MT
Why Hike Sperry Chalet
Glacier Basin is truly a magical place. The basin's emerald green meadows are surrounded by a rugged cirque anchored by Edwards Mountain, Peak 9,258 and Lincoln Peak. Waterfalls fed by meltwater from snowfields spill down the basin's rugged slopes and cliffs. Beautiful Feather Woman Lake and Akaiyan Lake lie nestled in rugged bowls in the upper basin. A trail climbs through the basin and up the basin's headwall to Comeau Pass. Beyond the pass a cairned route leads to the base of the Sperry Glacier.
The Sperry Chalet and campground, residing to the south of the basin, provide convenient overnight accommodations to anyone wishing to visit this amazing landscape as well as ascend Lincoln Pass to Lake Ellen Wilson and then climb over Gunsight Pass to Gunsight Lake and beyond.
The Gunsight Pass Trail, starting near the Lake McDonald Lodge, offers the quickest access to the Sperry Chalet, campground and Glacier Basin. The trail climbs on moderate to moderately-steep grade through forest for 4.0 miles and then more open terrain, reaching the Chalet in 6.2 miles and campground in 6.5 miles.
Much of the area was impacted by the 2017 Sprague Creek Fire which left a patchwork of trees with some areas burnt and others untouched. The result is a more open trail with better views and more exposure to the sun, making for a very hot climb during the height of the summer. My advice is to get an early start and ascend the trail in the cool of the morning.
The Chalet's dormitory was burnt during the 2017 fire. Rebuilding is underway. If all goes well the Chalet will reopen to overnight accommodations in 2020. In the meantime, the dining room and campground remains open during the rebuilding period. Check the Glacier National Park and Sperry Chalet website for the most up-to-date information.
Beyond the Chalet the Gunsight Pass Trail climbs over Lincoln Pass and stunning Gunsight Pass before dropping to beautiful Gunsight Lake. From there the trail descends through the St. Mary valley before climbing to the Going-to-the-Sun Road at the Jackson Glacier Overlook. Most backpackers start at the Jackson Glacier Overlook and hike the trail in the reverse order described, which involves less climbing.
Elevation Profile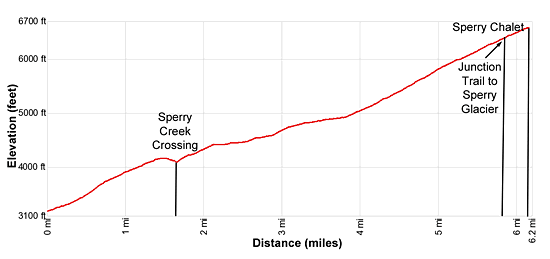 Trail Resources
Trail Detail/Full Description / Trail Photo Gallery / Trail Map
Basecamp(s) Information:
West Glacier
Region Information:
Glacier Natl Park, MT
Other Hiking Regions in:
Montana