Skip the crowds on this great hike that travels through Alp Munt, visits lovely Lake Sgrischus and then climbs to a panoramic overlook atop Piz Chuern with views of the Corvatsch massif and the high peaks towering above the Fex, Fedoz and Upper Engadine valleys.
See Trail Detail/Full Description
Distance: 6.4 miles (round trip) to Piz Chuern

Elevation: 7,589-ft. at Trailhead
8,806-ft. at Piz Chuern

Elevation Gain: 1,460-ft. to Piz Chuern

Difficulty: moderate
More Hikes in:
St Moritz / Eastern Switzerland
Why Hike Lej Sgrischus to Piz Chuern
Most people riding the Furtschellas cable car hike the Wasserweg (Water Trail), a loop that passes through rocky meadows and small tarns amid ski pistes and lifts. I instead recommend taking the path less traveled and head to Lej Sgrischus (Lake Sgrischus), a pretty lake nestled beneath Piz Corvatsch's south ridge. From the lake it is an easy climb to the top to Piz Chuern where terrific, 360-degree views extending to the peaks rising above Lake Sils (Silsersee/Lej da Segl) in the Upper Engadine Valley. To the west/southwest are the summits rimming the Fex and Fedoz valleys while to the east the Piz Corvatsch massif fills the skyline above Lej Sgrischus.
The trail initially travels along the west facing flanks of Piz Corvatsch to Alp Munt, a high pasture set atop a bench overlooking Val Fex. From the Alp a steep trail climbs to the lake accompanied by great views of the surrounding peaks. From there it is an easy ascent to Piz Chuern.
From the overlook atop Piz Chuern either retrace your steps to the Furtschellas cable car or extend the day by descending the steep trail to Val Fex and then walk back to Sils/Segl Maria. Whatever your choice it is a great day out with terrific, nonstop views.
Elevation Profile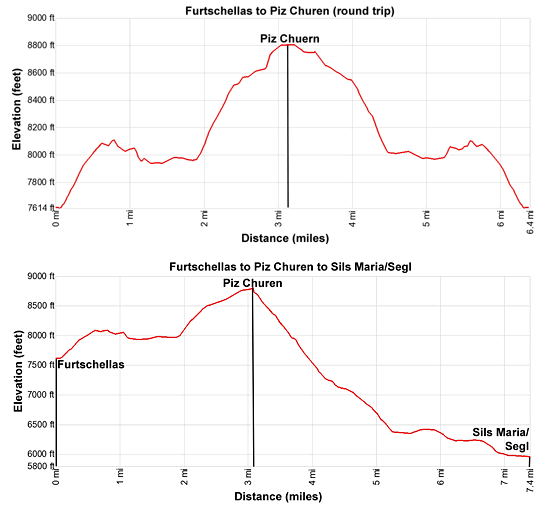 Support our Site
Buy the Book

This opinionated guide includes all the hikes in the Switzerland section of the website plus info on local services and nearby attractions.
Trail Resources
Trail Detail/Full Description / Trail Photo Gallery / Trail Map
Basecamp(s) Information:
St Moritz
Region Information:
Eastern Switzerland
Other Hiking Regions in:
Switzerland